Veggie Parade in Berlin in 2012


"Veggie-Parade" zieht durch Berlin - rbb aktuell

Under the motto "Eat Peace", Germany's second Veggie Parade took place on Saturday, July 7, 2012 in Berlin, from the Brandenburg Gate to Alexanderplatz.
It was a huge success! We are certain that the Veggie-Parade has now firmly established itself in Berlin and will continue to get bigger every year.
And for that we have to thank in particular all the people who got involved and who supported us so amazingly! Many thanks to you all! Without you, there wouldn't be a Veggie-Parade.
This year, around 500 people dressed in colourful costumes and carried numerous banners to demonstrate with us against animal suffering and in favour of a timely switch to a vegetarian/vegan diet.
We made a huge statement! With your help, the shared voice of all those who are striving towards a fair and peaceful world for all living beings will become ever louder!
Our next big event is also not too far off: the Vegan/Vegetarian Summer Festival will be taking place on 18. August 2012 at Alexanderplatz. See you then! Eat Peace!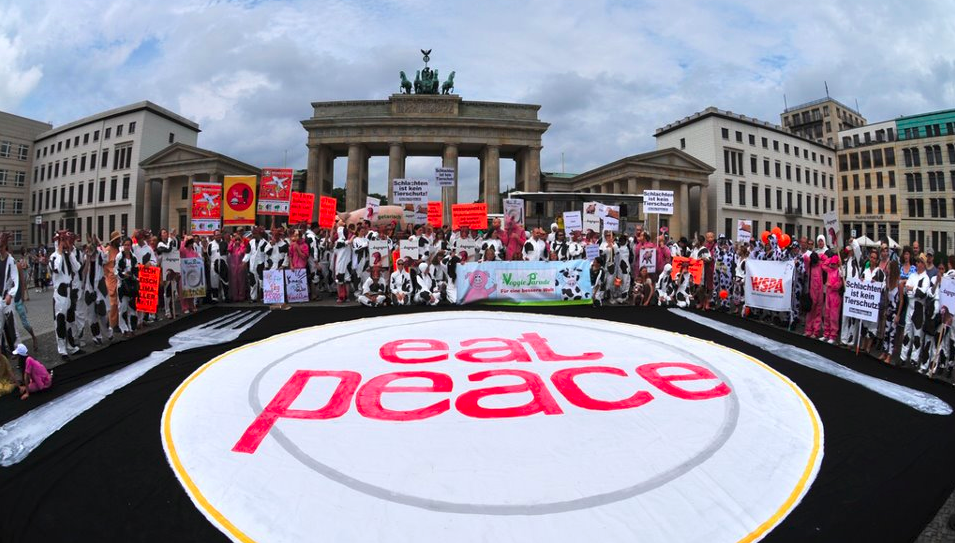 Photo: Robert Kresse
"Eat Peace" – this motto speaks for itself – everyone starts with themselves! In no other area can each individual so directly and effectively save the lives of animals and, at the same time, do something for the environment and their own health – just by what they eat!

This consumer power was demonstrated in a truly impressive way, namely in the form of a massive plate with a diameter of around 15 m (48 ft), complete with knife and fork, our most potent tools in the fight against animal suffering.
The message of the event stood loud and clear on the plate: Eat Peace!
The performance, which began at around 11 am at the Brandenburg Gate, was followed by the actual Parade, which ended with a closing rally at Alexanderplatz. The approx. 500 participants listened with interest to the interesting contributions and speeches from Jobst Eggert (PeTA), Mahi Klosterhalfen (Albert Schweitzer Foundation for our Contemporaries), Brigitte Jenner (Tierversuchsgegner (Opponents of Animal Testing) Berlin und Brandenburg e.V.), Marsili Cronberg (Author, "Wie ich verlernte, Tiere zu essen" ("How I Unlearned to Eat Meat") and Robert Kresse (Vegetarierbund Deutschland e.V., a.k.a. the German Vegetarian Society).

To ensure the physical well being of the participants, the vegan supermarket Veganz together with Vego Foodworld, served delicious 'Big Steaks' and burgers at their stand at Alexanderplatz.
Our special thanks go to the firm AUDIORAMA, who were providing the sound equipment for free.
Since the last Veggie-Parade, a year has passed. During this time, a few things have happened. The number of vegetarian/vegan restaurants und cafés in Berlin has increased considerably and continues to rise. Germany's first full-range vegan supermarket Veganz has firmly established itself in Berlin and further branches are planned in other cities. Almost all university canteens in Berlin regularly offer vegan dishes. Increasingly often, very positive reports appear in the media about the enormous advantages and the huge significance of the vegetarian/vegan way of life. All this is a clear sign that the urgently needed re-think is beginning in our society.